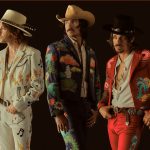 Every song these guys sing sounds familiar. They are the embodiment of Seventies California country, all smooth Eagles harmonies and heart-on-your-sleeve lyrics. Even if you have never heard the song they are singing, it transports you to another place and time. Their debut CD is soooo easy to listen to. Rolling Stone made it their #7 Country Album of 2017.
Midland is a trio of friends based in Dripping Springs, Texas. Singer Mark Wystrach, lead guitarist Jess Carson and bass player Cameron Duddy.. Their songs have a little twang of George Strait.  "We write with a very visual storytelling approach. We paint that big picture and go to that place," says Mark.
It's no coincidence then that it was in an especially scenic setting where the band first came together — at Cameron's wedding in Jackson Hole, Wyoming. There, casual friends Cameron and Jess formed a musical and personal bond while picking songs together on Jess's cabin's front porch. The connection was only strengthened when they found themselves jamming with Cameron on stage later that week at his rehearsal dinner.   "It was this serendipitous chain of events," says Mark, "And it was the best week ever." "All of us playing together happened only because Mark and I both showed up in Jackson Hole a week before the wedding with time to kill," adds Jess. "But, by the end, we knew the three of us had amazing chemistry," says Mark.
Armed with the newly married Cameron's nest egg, Mark, Jess and the California-raised Cameron headed for the Sonic Ranch studio, near El Paso, Texas. They cut 15 songs and realized they had a unique sound. "When we went to the Sonic Ranch, we became a band. We walked away believing in what had happened," says Mark. "All of our souls, our imaginations, were wrapped up in these 15 songs. We went all-in."   "And then we all moved out to Texas," says Cameron.
Those sessions yielded some of the most traditional-sounding country music to come out of Nashville in a decade. Their music evokes Gary Stewart, Merle Haggard and vintage Eddie Rabbit.  Midland have fills a void in country music, and on KFDI.
Like their inspirations the Eagles, they are writing and recording songs with mass appeal. "Midland isn't manufactured," says Cameron. "We are three real friends who stumbled upon making music together." "We are a band," adds Jess. "That's a big part of the spirit of what we do, that group experience and camaraderie. And it is ever-evolving." Midland's music is truly a sound decades in the making and just right for today.