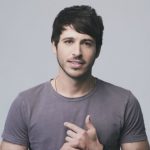 You may have heard Morgan's debut U.S. single "Kiss Somebody" playing on KFDI. Carol first played it as her Test Tune and it got great grades. So, here he is on the Listener Appreciation Show.
No decision was tougher than letting go of everything he knew in his Australian homeland to live halfway across the world in Nashville just to chase a dream. "That was a big deal," Morgan says about making the move to the U.S. "It was daunting at times. I really did feel like I had to let go of everything. But that's what people do when they dive into love, whatever it is they love."
His songs are coolly melodic, hopeful and infectious, none more so than "Kiss Somebody." He delivers it with a genial confidence, anchored by an earthy sensitivity.
Morgan comes by music honestly. He grew up in Newcastle, a beach town two hours north of Sydney. His parents listened to music with blue-collar values. Garth Brooks, The Nitty Gritty Dirt Band, and Led Zeppelin were in high rotation. His mother encouraged him to pursue music as a hobby, and Morgan ended up playing piano at home and baritone horn in his school band. At age 13, he picked up a guitar.
His musical inclinations crystalized in 2004, when fellow Australian Keith Urban performed an intimate show in Newcastle for about 140 people. "It was just the best thing I'd ever seen," Evans recalls. "I grew up listening to country music and rock music, and he was the first artist that combined all those elements with the country sound in a way that made me think that's exactly what I needed to be doing."
As his reputation in Australia grew, he opened for Taylor Swift on her first tour there and for Alan Jackson's 2011 arena shows. Touring with country's biggest stars motivated Morgan to take regular trips to Nashville.
On his first trip to Nashville, he performed on a showcase of global country acts at the CMA Music Festival. An impressed CMA board member offered Evans the opportunity to play a two-song acoustic set at the stadium in front of 50,000 people.
By 2017, he had developed an impressive catalogue of songs, and an engaging live show, built around a loop pedal setup that allowed him to play solo with the presence of a full band. Something you will see at our Listener Appreciation Show on April 11th.
Warner Music Nashville executives were impressed by the potential of his songs and a little less than two years after he arrived in Nashvill he had a record deal. Then last December he married Country singer Kelsea Ballerini.
His first American Album is due out some time this year.