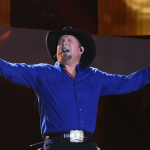 If you're not one of the more than 84,000 fans who purchased a ticket to watch Garth Brooks' concert at Notre Dame Stadium in South Bend, Indiana, on Oct. 20, you can still be a part of the experience.
Garth revealed this morning during a press conference at the Country Music Hall of Fame that CBS will premiere a new two-hour television special that captures his performance. Garth: Live at Notre Dame will air on Dec. 2 at 8 p.m. ET.
"After the sellout, I thought it could not get any more exciting than this," said Garth. "Then, CBS calls, and in an instant, the show becomes bigger. This changes everything."
The Notre Dame Stadium show is the first of what will be 3 years of stadium shows from Garth. He revealed that he plans to play 10-12 stadiums a year for the next 3 years and that many, but not all of the shows will be in college stadiums. He also announced 2 more stadium stops in St Louis and Glendale, AZ but no dates, yet.