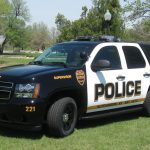 HUTCHINSON, Kan – A long-time Hutchinson police captain has been fired and several other police department employees have been suspended as the result of an internal investigation.
Troy Hoover was with the Hutchinson Police Department for almost 30 years, including 11 as assistant chief.
New police chief Jeffrey Hooper said the investigation should be completed Wednesday and a press conference was planned to release more information. He has not revealed the number of people who were suspended.