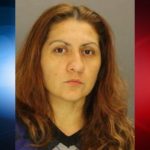 A Texas woman who was convicted in a Wichita murder and kidnapping has now been sentenced to 17 years for another case.
35-year-old Yesenia Sesmas was given 204 months after pleading guilty to three counts of attempted kidnapping. She admitted holding a pregnant woman and the woman's two young daughters hostage in a south Wichita home in July of 2016.
Sesmas will serve the sentence at the same time as the 50-year sentence she was given earlier this year for the murder of another woman and the kidnapping of the woman's newborn daughter. Sesmas was convicted in the November, 2016 shooting death of 27-year-old Laura Abarca Nogueda at a west Wichita apartment. Nogueda's daughter, Sophia, was kidnapped but she was found safe in Dallas, Texas a few days later.
Sesmas was given a sentence of 50 years plus 61 months for the murder and kidnapping.