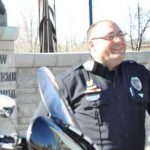 WICHITA, Kan – Charges have been filed in connection with an accident last spring that killed a Wichita police officer and his son.
35-year-old James Dalrymple has been charged with two felony counts of involuntary manslaughter and a misdemeanor charge of failing to yield the right of way.
On April 27th, 37-year-old Wichita police officer Stacey Woodson was killed and his nine-year-old son Braeden died later at a hospital after their motorcycle was hit by a pickup. The accident happened at 21st Street North and 167th Street West. Stacey Woodson was off-duty at the time of the crash.