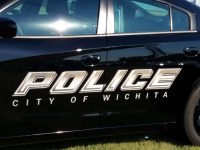 Wichita Police have arrested a man for a fatal shooting Saturday morning.
It happened at a duplex in the 2200 block of South Glendale, shortly before 6 a.m.  43-year-old Ray Nunley reportedly went next door to his neighbor's house to break of a fight, when he was shot multiple times in the chest.
Police say Nunley was able to walk back to the front of his home before he collapsed.  He was pronounced dead at the scene.
A 28-year-old man is being held at the Sedgwick County Jail for first-degree murder.  The suspect had recently been paroled for a 2008 homicide.
KFDI News is not releasing the man's name until he is formally charged.