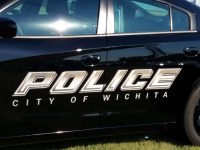 Wichita Police recovered a gun that had been stolen back in 2014 when they arrested two men for burglary Monday afternoon.
It happened shortly before 2:30 in the 2300 block of North Richmond.  A woman called 911 to report two men removing things from her sister's home.
Police arrived and took a 51-year-old and 23-year-old man into custody.  Police recovered the gun, along with a stolen trailer, and a stolen 2001 Chevy pickup.
They also recovered two stole lawn mowers, tools, a fur coat, and electronics that had been taken from the home.  Police will present their case against the two men to the District Attorney's Office soon.