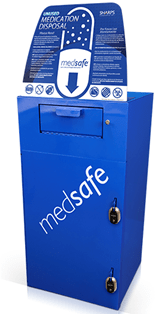 Safe Streets Wichita has partnered with Dandurand Drugstore to provide Wichita and Sedgwick county with their third MedSafe dropbox. A MedSafe dropbox is a permanent medication safe where you can safely dispose of your unwanted or unused prescription drugs.
The new dropbox can be located inside Dandurand Drugstore located at 7732 E. Central, near Central and Rock. The dropbox is easy to use and is similar to a secure mailbox. Safe Streets says this is a goal to help make Wichita a safer place to live and keep prescription drugs out of the wrong hands.
Wichita has two other MedSafe locations at Walgreens located at Central and Hillside and Central and Maize.