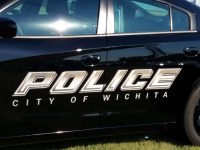 An 18-year-old man has been treated and released from the hospital after he was shot in the hip Thursday night.
It happened around 10:30 p.m. outside of a smoke shop near 19th and Broadway.   Wichita Police say the man got into a fight with two teens leading up to the shooting.
Two officers who were in the area of 17th and Wellington Place heard gunshots coming from the east.  Meanwhile, another officer on patrol on Broadway nearby noticed a blue Ford Taurus driving suspiciously through the neighborhood and then pull into the parking lot of the smoke shop.  A passenger ran from the car, but after a short chase on foot, the 15-year-old was caught.
The 16-year-old driver was arrested inside of the shop.  A rifle was also found on passenger side of the car.
They were booked into the juvenile detention facility for aggravated battery, discharging a gun in an occupied vehicle and possession of a firearm by a juvenile.