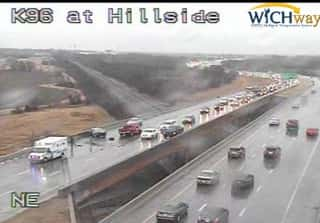 The Kansas Highway Patrol says it is believed a medical condition led to a serious crash in north Wichita.
Around 8:30 Friday morning, a driver in a pickup was headed east on K-96, when they suddenly crossed the center barrier at Hillside. The pickup ended up in oncoming traffic, and hit a woman in a Hyundai head-on. The woman was briefly stuck in her car after the crash and was taken to a hospital with serious injuries. The driver of the pickup was not seriously hurt. A third car was also struck in the crash, but the driver was not hurt.
This crash had westbound K-96 closed for a couple hours Friday morning.