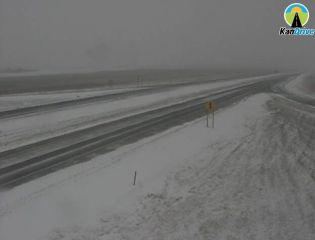 Interstate 70 has reopened between Colby and the Colorado border, but roads in northwest Kansas are still snowpacked and icy.   I-70 has been closed westbound at Manhattan at milepost 313.
Blizzard conditions moved into northwest Kansas this morning causing slick roads and visibility issues, and the snow has spread across northern Kansas.   The majority of the snow is expected to stay north and along I-70 as the system pushes through Kansas throughout the day.
In south-central Kansas, we're expecting a wintry mix, with flurries into the evening.   No significant accumulation is expected.
From the Associated Press
The Kansas Highway Patrol said a 19-year-old woman has died in a crash on an ice-covered section of Interstate 70.
The patrol said Ashlen Leigh Lemon, of Hays, died Tuesday afternoon in the one-vehicle crash in Geary County. The patrol reported she lost control because of icy road conditions, hit the median and struck a guardrail.
A storm carrying ice, snow and high winds moved east across Kansas on Tuesday, prompting school closings and cancellations of several events. Governor Laura Kelly sent all non-essential state employees home Tuesday afternoon because of the conditions.
Interstate 70 was closed between Colby and the Colorado border for several hours but was reopened Tuesday afternoon. A section of the interstate between Junction City and Chapman remained closed because of icy conditions and numerous accidents.