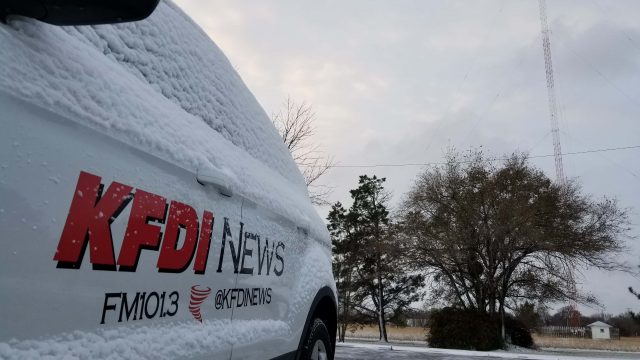 Winter weather brought a fair amount of snow to central Kansas Tuesday. The Wichita area was expected to get between 3 and 5-inches of accumulation. The northwest part of town saw nearly 3-inches. The downtown area saw closer to 1.5-inches. Snow reports below cover measurements from Tuesday afternoon to Wednesday morning.
10-inches, 8 miles south of Kingman
9.4-inches in Kingman
8.2-inches, south of Willowdale
8-inches, 3 miles northwest of Harper
7-inches, near Pretty Prairie
6.8-inches, Mt. Hope
6.5-inches, Hutchinson
5.5-inches, north of Cheney
3.5-inches, Goddard
3.1-inches, south of Maize
3-inches, south of Halstead
2.9-inches, Salina
2.5-inches, near Winfield
2.5-inches, Arkansas City
2.5-inches, Hesston
1.7-inches, Valley Center
1.6-inches, Augusta
1.5-inches, Eisenhower Airport
1.5-inches, Bel Aire
1.5-inches, El Dorado
1-inch, Great Bend
More winter weather is in the forecast this weekend. The National Weather Service predicts freezing rain Friday night could turn to blowing snow Saturday afternoon. That forecast may change as we get closer to Friday afternoon.