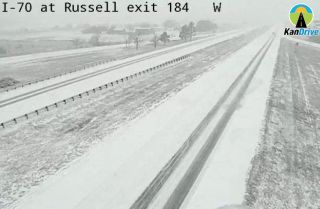 Snow has been falling in western Kansas and a blizzard warning is in effect for counties in western and central parts of the state.  The warning extends into Reno and McPherson counties in south central Kansas.    Up to 9 inches of snow could fall in western and northern Kansas before the storm ends.
There were reports of 3 to 5 inches of snow in Finney County at mid-morning Saturday.   Three inches of snow fell in Syracuse, in Hamilton County.  Driving was becoming more hazardous on Interstate 70 in northwest Kansas.
Sedgwick, Harvey and Kingman counties are under a winter weather advisory.   Rain is expected to continue for the Wichita area throughout the day and it will change to snow in the late afternoon or evening hours.   There could be a trace to an inch of snow for Wichita.
A wind advisory is in effect for Butler, Cowley, Sumner, Chase, Greenwood and Elk counties, and the advisory extends into southeast Kansas through midnight.  Winds will be around 30 miles an hour with gusts up to 40 as the winds shift to the northwest.
The state opened its emergency operations center in Topeka at 7 a.m. and agencies will be working out of the center to coordinate the response to the winter storm.  The Kansas National Guard will have 13 teams on standby to help stranded motorists if local agencies are unable to provide assistance.