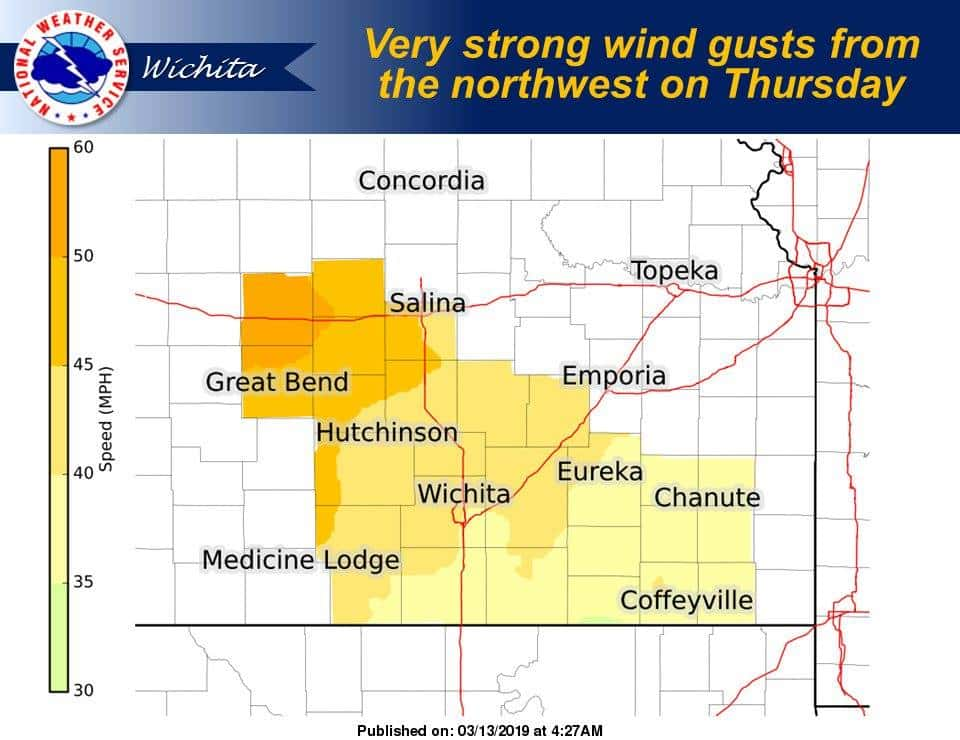 Wind gusts reached 60 miles an hour in parts of south central Kansas and some damage was being reported as a weather system brought high winds to the state.
In Wichita, power lines were down at 13th and Oliver and there was a report of a traffic signal down at Topeka and English.  A wind gust of 58 miles an hour was reported at Eisenhower National Airport.
In Reno County, power lines were down on East 1st Street in Haven, and high winds blew a tree onto a house in Nickerson.  A wind gust of 60 miles an hour was reported in Hutchinson.
In Butler County, officials reported a semi that was blown over by wind at Highway 400 and SE Gray Road, northeast of Latham.
Officials in Kingman County reported that a 20 by 30-foot shed was blown down near the Kingman-Sedgwick County line.
A high wind warning remains in effect until 1 a.m. Thursday for south central Kansas.   Parts of southwest and north central Kansas have high wind warnings in place until 4 a.m.
Blizzard conditions in Colorado forced the cancellations of about 1,000 flights into Denver.    Flights to Denver from Wichita's Eisenhower National Airport were canceled.