Wichita State University is holding the grand opening for its new "Shocker Pet Pathways" Saturday.
Three different paths through the campus will be marked with "#ShockerPets" signs and include pet waste stations with free waste bags. Future plans for the paths include water bowls and treat dispensers. Click here to keep up with the pet paths on Facebook.
The grand opening will be held at 9 a.m. Saturday, April 20 at Braeburn Square on the northeast side of campus, and officials will cut a ribbon at 9:30.
You don't have to be a student to walk your dogs around campus. Wichita State invites the public and their pets to enjoy the routes and their pet-friendly amenities. The first 50 attendees will get a free mini frisbee, and the celebration Saturday morning will also include a pet costume contest.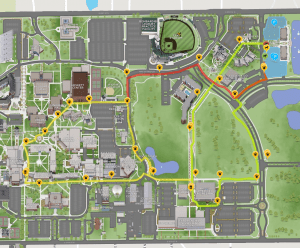 Map courtesy Wichita State. Click here for interactive map.
After the pathways open, you're invited to the rest of the "family fun day" on campus including a Shocker baseball game against UCF, "Bark in the Park," a family carnival, and bowling.
Shocker Pet Pathway Grand Opening: 9 a.m. to noon at Braeburn Square
Bark in the Park: 10:30 a.m. at Eck Stadium
26th Annual Spring Family Carnival: 1 p.m. to 4 p.m. at Airbus Lawn
Rent-a-Lane Special: All day at Rhatigan Student Center, $15 per hour for up to six people
Cosmic Bowling: 8 p.m. to midnight at Rhatigan Student Center
Find out more about events at WSU this weekend by clicking here.