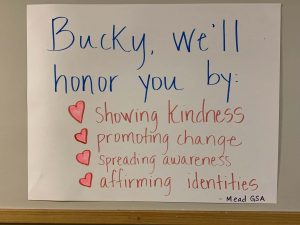 It was a humbling scene at United Methodist Church Wednesday night, as several people gathered to show their support for a Southeast High School student who died by suicide last week. The church was filled as visitors and family heard speakers remember Vayden Bucky Easley and raise awareness about suicide prevention.
"None of the work we do in suicide prevention will mean anything if we are not creating a world that people are comfortable living in", says Speaker Bailey Blair of Suicide Prevention ICT.
If you or someone you know is having suicidal thoughts and needs help, there are resources available. You can call the National Suicide Prevention Hotline at the number at 1-800-273-8255 or the Sedgwick County Comcare Hotline at 316-660-7500. Both hotlines are monitored 24/7. Counseling was also expected to be offered following the vigil.