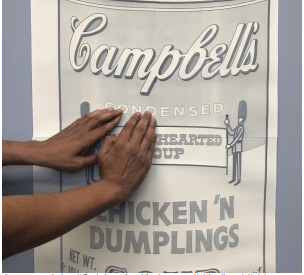 Envision, a Wichita-based organization with locations in 11 states, is sponsoring a new exhibit that makes art accessible to people who are blind or visually impaired. The exhibition "Solving for X=Accessibility: GuideBeacon," is one of three new shows that the Ulrich will unveil at its Fall Exhibition Opening Party, which will be held at the Museum
from 5-8 P.M. on Thursday, September 12. As part of the exhibit, patrons will be able to touch tactile versions of some of the more well-known pieces in the Ulrich's collection. The five works from the collection, which include well-known pieces by Andy Warhol, Joan Mitchell, and others, will each be displayed next to touchable,  tactile graphics of the work produced by WSU's Instructional Design and Access team. "We are thrilled to partner with the Ulrich to create meaningful art experiences that can be equally
enjoyed by people who are blind or visually impaired," said Heather Hogan, senior vice president Foundation and Mission Services at Envision. "Art is for everyone, and we hope this exhibition spreads that message." The Ulrich is also working with Vinod Namboodiri, professor of Electrical Engineering and Computer science at WSU and senior scientist
at the Envision Research Institute, who is developing GuideBeacon, a wayfinding app that uses bluetooth beacons to assist blind and visually impaired (BVI) people in navigating indoor and outdoor spaces. GuideBeacon will be loaded with audio guides that provide vivid descriptions and contemporary contexts for each piece. The Museum will also offer opportunities for simulated BVI experiences and limited mobility experiences to help encourage increased understanding and empathy among its sighted patrons.