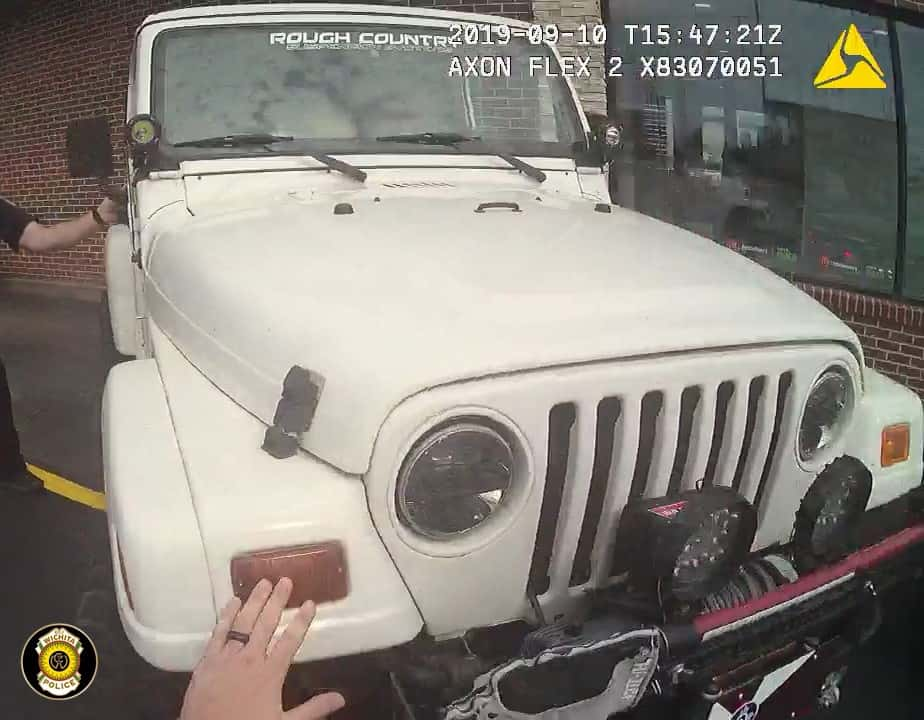 Two suspects were hospitalized after being shot while in a stolen car, but one of them was later released and then booked into jail.
Wichita police said a 30-year-old man was arrested for aggravated robbery and an outstanding warrant from Nebraska.  The man was hit in the arm when officers fired shots at a stolen Jeep Tuesday morning.   Police said he was a passenger in the Jeep.
A  27-year-old man was arrested later in the day and taken to a hospital with a gunshot wound to the leg.
The officer who fired into the stolen car has been put on administrative leave as an investigation continues.
This all began when a 1999 Jeep Wrangler was reported stolen Tuesday morning, from the 1400 block of West Murdock. The Jeep's owner found it later and followed it while telling police where they were going. This led officers to the McDonalds at 21st and Amidon, where they attempted to stop the car from leaving the drive-thru. Police say the driver tried to hit an officer and that's when three shots were fired. This didn't stop the driver and they hit another car while fleeing. A woman in that car was taken to a hospital for a minor injury.
Three suspects in the stolen Jeep bailed out after a crash near 29th and Amidon. A 30-year-old woman was arrested at the scene and booked for obstruction and a warrant.
Police say the 30-year-old male suspect went to a nearby home, threatened a couple, and took their car. This car was spotted which led to another chase that ended near K-42 and 167th West, with the stole Honda CRV getting stuck in a pond. This is where the suspect was arrested.
The 27-year-old suspect was arrested later near 29th and Meridian.
A gun was tossed and recovered at some point and was found to have been a BB gun.
Police have not said how the owner of the stolen Jeep was able to find it.
WPD provided an image from the body camera of the officer who was nearly hit while trying to stop the driver of the stolen Jeep.