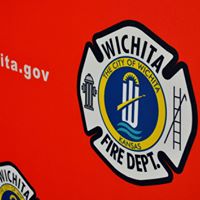 There are two memorial services for firefighters coming up. The Kansas Fallen Firefighters Memorial will be at 1:30 p.m. on Sunday, Sept. 29 at the Firefighters Museum, 1300 S. Broadway.
The U.S. Fire Service will honor one firefighter, who died in the line of duty, from Kansas during the 38th National Fallen Firefighters Memorial Service on Sunday, October 6, 2019.  He is among the 92 firefighters who died in the line of duty in 2018 and 27 firefighters who died in previous years who will be remembered at the official national service at the National Fire Academy in Emmitsburg, Maryland.
Firefighter John W. Randle, age 68, of the Wamego City Fire Department, died on January 2, 2018, after falling and striking his head.
His name will be added to the National Fallen Firefighters Memorial on the Academy grounds. The national tribute is sponsored by the National Fallen Firefighters Foundation (NFFF) and the Department of Homeland Security's U.S. Fire Administration.
More than 5,000 people, including families, friends, members of Congress, Administration officials and firefighters are expected to attend on Sunday. Firefighter Honor Guards and Pipe & Drum units from across the U.S. will participate in this national remembrance.