Today it begins.  I am honored to have been asked by the Midwest Transplant Network to be the first ever Green Ribbon Champion for Wichita.  It really is one of my more proud moments of my radio career. I get to tell the story about how the life of my best friend, my wife Michelle, was saved through organ donation. 
As you may or may not know, back in 2015 my wife was diagnosed with Chronic Kidney Disease and at time of diagnosis her kidneys were functioning at 17% (not good) and she needed to go on dialysis and would need a transplant to live.
Long story short, my wife's life was saved thanks to the grace and selfless act of a complete stranger, who is now family.  Cindy heard me tell our story, she got tested and was a perfect match. If you have questions about organ donation, CLICK HERE.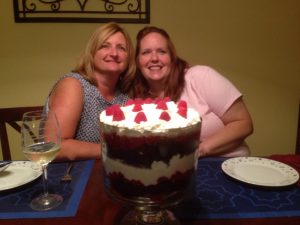 Long before any of this, I was a registered organ donor.  From when I first got my drivers license, I always have been.  I also am a registered bone marrow donor and I've donated platelets to the Red Cross  (43 gallons and counting).  As a Green Ribbon Champion, I will work hard to advocate for organ and tissue donation.  My wife and I have "Donate Life" plates on our vehicles and I love seeing other cars on the road with them.  I will tell our story, I will share how easy it is, I will encourage you, if you're not, to become an organ donor.  You could save a life.  Find out more today at ShareLifeMidwest.com
About Midwest Transplant Network
Midwest Transplant Network has been connecting lives through organ donation since 1973. As the federally designated not-for-profit organ procurement organization (OPO) for Kansas and the western two-thirds of Missouri, Midwest Transplant Network provides services including organ procurement; surgical tissue and eye recovery; laboratory testing and 24-hour rapid response for referrals from hospital partners. Midwest Transplant Network ranks in the top 10% in the country among OPOs, which reflects the organization's quality, professionalism and excellence in partnerships throughout the region. For more information, visit mwtn.org.