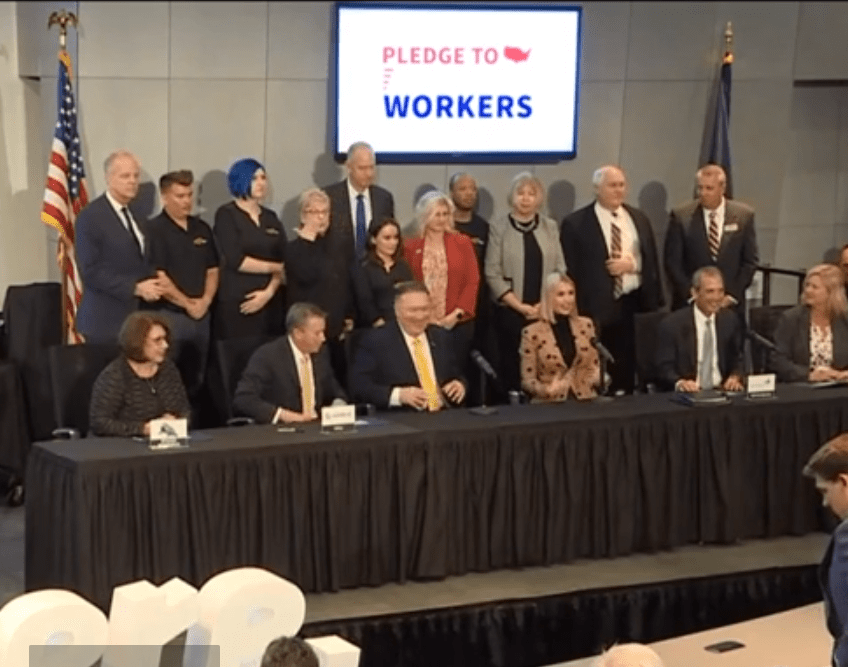 Secretary of State Mike Pompeo and Ivanka Trump were in Wichita Thursday.
They were joined by Kansas Congressman Ron Estes and Senator Jerry Moran as they toured WSU Tech and Textron Aviation.  They also participated in a roundtable at WSU Tech with school officials, aircraft representatives, and students in programs at WSU Tech.
The event was to highlight the Trump administration's Pledge to America's Workers.  In opening statements during the roundtable, Ivanka Trump said that over 350 companies have signed the pledge, including Textron and Spirit, to commit to investing in training for over 14 million american workers.
"So we couldn't be more proud than to have so many great American employers to join us today to reaffirm their commitment to this country's greatest resource by far, which is our exptional workforce." said Trump.
Pompeo said that for a long time, America ignored upscaling our workforce, especially when it came to trade and skilled workers.
"We ignored economic realities.  We discouraged talented young people from pursuing the career paths that were best for them.  We made America less competitive as a result from that."
Following the roundtable,  Trump, Secretary Pompeo, Senator Jerry Moran, Congressman Ron Estes and other officials toured Textron Aviation's Cessna Citation Longitude manufacturing plant.