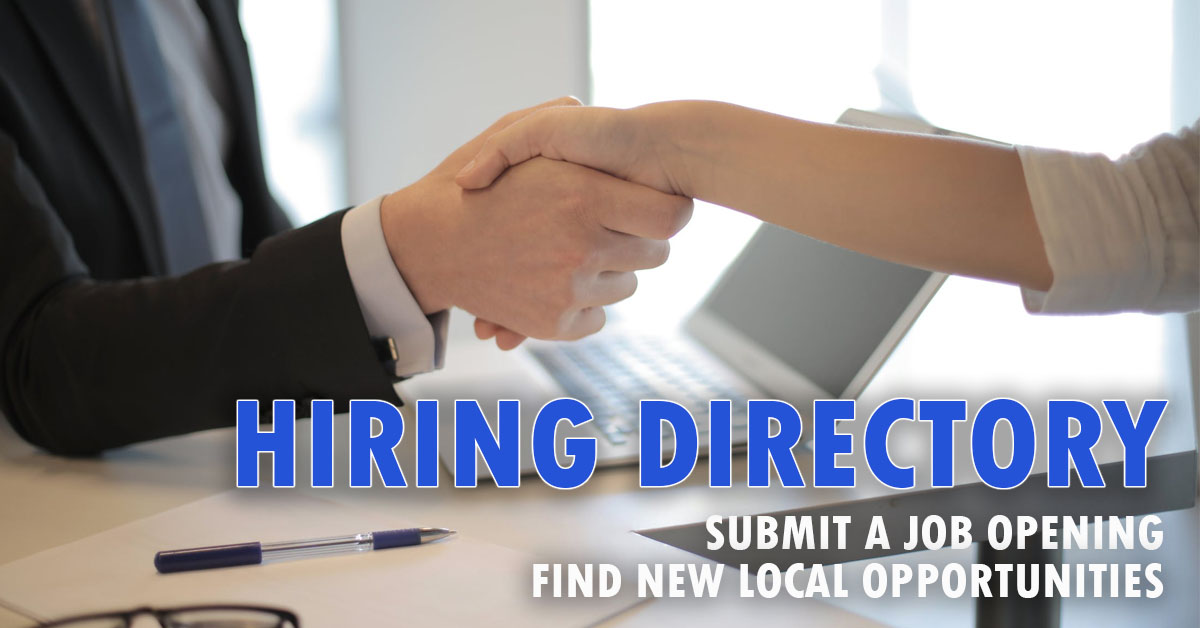 ————————–
Businesses Hiring: 
Allen's Furniture & Upholstery – experienced cutter, sewer, and upholster. We would like someone that can do all 3. But if you can do any of the. Please stop by and show us what you can do. Pay is based on what you can do. We are up and working our regular hours. This will be a full time position for as long as you are willing to work.
APAC Shears – hiring for mutiple positions. From the supply of aggregate materials, hot mix asphalt, and concrete to the construction of roads and bridges, we do it all. We offer a wide variety of services, products and materials to serve your building needs. Our customers include contractors, businesses, municipalities, government agencies, and homeowners across Kansas.
At Home Decor Store: Looking for enthusiastic people ready to become part of our team. We are looking for people with flexible availability to work out stock; as well as be a cashier. Someone who is friendly and courteous; who enjoys helping others.
We are looking to hire 5 part time customer service associated to work evenings and weekends ASAP.
Best Western Wichita North – Currently seeking persons with friendly, welcoming demeanor, as they will be the first face and impression of Best Western Wichita North experience. Customer Service experience, preferred but not required. ** THIS POSITION IS FOR 2ND SHIFT FRONT DESK AGENT **
Applicants MUST have the following: * VALID Driver's License is REQUIRED, * MUST BE 21 or OVER, Persons with hotel front desk experience is a plus!
Also hiring banquet servers
BrightStar Care of Wichita – hiring qualified & dependable CNA's
Cheney USD 268 – Cheney USD 268 is currently accepting applications for a full time 12 month Maintenance/Groundskeeper position. Benefits include single paid medical insurance, 2 weeks' vacation after one year of service, 3 personal leave days. Other optional insurances include vision and dental, paid by employee. Other plans and investment opportunities available. Applications may be printed from our website at www.usd268.org under the Employment tab, or you may contact Kelly Walters at 316-542-3512 or kwalters
City of Wichita -Multiple positions: bus operator, fire recruit, police recruit, van driver, youth program worker
Clarks Uniforms Co. Inc. – Sales Associate for medical uniforms
Container Services Inc – Three different shifts. Midnight-8am / 8am-4pm / 4pm-Midnight. Part Time and Full Time. Wages range from 12.30-12.90 starting pay.
Country Kitchen – The Country Kitchen is currently seeking experienced wait staff. Hours vary. Please apply in person. Benefits: Health Insurance, Life Insurance, 50% off meals at restaurant while working, employee discounts at Best Westerns worldwide, paid bi-weekly pay, paid vacation after a year.
Craig HomeCare – Craig HomeCare is a leading provider in private duty pediatric nursing services, looking for skilled and compassionate LPNs & RNs to join our team!
Locations: Wichita, Bel Aire, Derby, Haysville & Leon, KS \ Hours: FT days & nights and PT weekends \ Case Details: Various ages & technologies (G-tube, trach & vent)
Cutting Edge Concrete  – We are looking for full time people who have experience in pouring, forming, laying and finishing concrete. Pay depends on lever of expertise. We are also looking for general workers, concrete cutters, flat sawing and construction experience.
DLS Underground LLC – Lead and supervise crew to safely and efficiently execute the work assigned
Safely and productively execute utility work including gravity and pressure systems, storm, water and sanitary sewers, dry utilities
Safely and productively execute grading operations for mass earthwork, loading of hauling vehicles in various soil types and conditions, fine grading for roads, curbs, walks, foundations and other surfaces
Coordinate with the superintendent and project manager for scheduling of the work
El Dorado Correctional Facility – The El Dorado Correctional Facility is accepting applications for Corrections Officer I. No experience is needed, paid training, all uniforms and equipment provided. Starting pay is $18.26 per hour and increases to $19.16 per hour after completion of the first year as a Corrections Officer.
EquipmentShare Wichita – Eight openings in Wichita right now.  CDL Drivers, General Manager, Sales Representatives and more.
Fox Plumbing, LLC – We are looking for Experienced Commercial Plumbers. We do very little, if any, residential work. You do not need to be licensed, but you do need to be experienced.
Fuzzy's Taco Shop – Now hiring for Front of House Team Members to create the "Friendliest Place in Town" environment for guests and the team. Positions available for cashier, expo, and floor. Must be at least 18 to apply. Bar positions also available for individuals
HealthBack Home Health – We are looking for an RN for our full time, day shift position. We are also offering a $5000 sign on bonus.
Holland Pathways Behavioral Healthcare Services, LLC – Hiring Nursing Positions: LPN or RN
Full-time 2nd shift and Part-Time 2nd shift weekends
Honey Do Homes – We are currently looking to hire an experienced painter and carpenter. Full time position Monday – Friday.
KanEquip, Inc – KanEquip, your Case IH dealer of Wichita and Hutchinson are hiring experienced Ag Technicians with multiple years of experience and the ability to diagnose and solve technical issues. As a member of the KanEquip team, you will be offered a full range of benefits including: 401K, cafeteria plan, health insurance, vacation, and paid holidays. You owe it to yourself to see what we have to offer. To learn more and to apply online, visit us at www.kanequip.com.
Lakeside Academy – We are hiring Direct Care staff and Licensed Family therapists
Leekers Family Foods – Currently seeking full-time Produce Manager with minimum 1 year experience. Candidate will be responsible for the day to day operation of the produce department in a large supermarket. Responsibilities include ordering, pricing, stocking, and supervising employees. Pay: $14.00 – $16.00 per hour. Benefits: 401(k), 401(k) matching, Dental insurance, Employee discount, Health insurance, Life insurance, Paid time off and Vision insurance. Typical shift schedule: 7AM – 5PM. Paid training: Yes.
Loyal Payment Solutions – Need experience in making outbound calls
Mears Fertilizer Inc. – Immediate openings – Come grow with us!
Michael Slack Farms – Large grain farm operation looking of the right employee to join our team. Competitive salary and benefits. Housing available if needed. Heated and cooled shop. Modern John Deere equipment. If growing crops is your passion, this is the job for you. Team atmosphere. Email mslack@kanokla.net – located in Oxford, KS.
Midwest Sewing Center – Do you like to sew? Would you like to try out the newest products on the market? We are looking to expand our sales team! The ideal candidate would be self-motivated, goal-oriented, the ability to lift up to 20 pounds when necessary, and ready to sell our amazing products! Sewing machine experience is preferred but not required. All training necessary to perform the job will be provided to you. This is an hourly position plus commission. Please apply in person at 111 S. Pattie.
Multicon, Inc. – Multicrete – Concrete Laborers/Finishers needed. Commercial concrete workers needed. Openings available for : Foreman, Finishers, Form Setters, Laborers, and Equipment Operators.
Noodles & Company – We are looking to hire cooks and cashier's for a fun fast pace job. Morning and night shifts available, part time and full time, food discounts, vision and dental benefits are available. Starting pay is $10 an hour or more based on experience.
One Stop Pet Grooming – One Stop Pet Grooming is wanting to hire an experienced (shop experience only) dog groomer. For more information please follow the link or apply in person
Prairie View, Inc. – Now hiring for a FULL-TIME Nurse, Mental Health Worker, Community Case Manager, Clinician, Licensed Social Worker, and Receptionist.
Please apply online at www.prairieview.org or email resumes to humanresources@pvi.org
Providence Home Health and Hospice –  seeking to hire an experienced Registered Nurse (RN) that is licensed in Kansas to work in the specialty area of Home Health and/or Hospice.
Quality Custom Distribution – Looking for Warehouse Selectors that are team-oriented and willing to work for a high-volume and fast-paced warehouse that distributes to recognized and reputable brands.
ServiceMaster Quality Cleaning – looking for a janitor commercial cleaner/part-time mornings
Spangles – Spangles is hiring 21 years and up at many of our locations. $10/hour. Open interviews Monday – Friday 1-2pm. See store for details!
Studio 54 Pilates & More East & West Central Locations – Both locations are looking to hire a comprehensively trained Pilates Instructor.
Must be a graduate of a full comprehensive training, or willing to finish their education.
Fun, easy going and fast paced environment.
Send resume to amie@studio54pilates.com
The Grounds Guys of East Wichita – landscape & irrigation system installer
Treescapes, Inc. – Looking for Sprinkler Technicians and Accounts Receivables/Collections personnel with great communication skills. Apply in person at 1202 N Andover Rd. Andover, KS 67002
UniFirst – multiple Wichita positions available: production employee, maintenance custodial technician, and maintenance technician.
U.S. Army – Hiring full-time and part-time with over 150 careers available. Free healthcare, dental, food, housing, utilities, education and many more benefits.
Local contact: brandon.d.bartel.mil@mil.mil
U.S. Navy – Hiring qualified men and women at a starting base salary of 1600 a month in career fields such as aviation engineering medical and construction. Leadership training college opportunity with travel benefits. Local contact: matthew.w.taylor2@navy.mil
Wichita Hall's Culligan – Experienced Customer Service Representative – able to multi-task and an individual that likes a fast paced work environment. Monday – Friday 8am to 5pm.