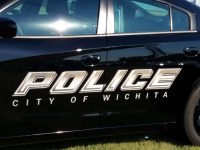 A protest that started at 21st and Maize Tuesday evening stayed largely peaceful, but there were reports of violence after that gathering was broken up.
There was another gathering at 21st and Arkansas Tuesday night, with people in the area into the early morning hours. There were fireworks and tear gas being used in the area, and police moved to break things up after the QuikTrip at the intersection was broken into and looted. There were also reports of break-ins at the nearby O'Reilly Auto Parts and cell phone stores. QuikTrips across Wichita closed overnight just to be safe, but they've all since reopened.
During the protests, there was a brief report of widespread looting across Wichita. That information has since been tied to a series a fake calls to 911. There was also a fire reported at one point, but nothing was ever found. A fire in downtown Wichita was found around 4 a.m. Wednesday, and it looks like the Petroleum Building, near Broadway and English, may have been broken into.   Businesses in the area of K-96 and Greenwich Road also reported damage from attempted break-ins.
Exploration Place in Wichita posted photos of damage done to windows at the southeast corner of the building, and officials said the damage was done by gunfire.  An outdoor marketing kiosk was also damaged.
So far, there have been no reports of any serious injury from these protests or any of the break-ins.