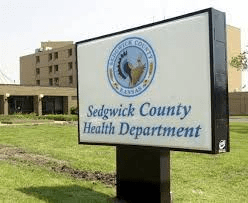 Sedgwick County's mobile COVID-19 testing team will be working at a couple locations this week.
Walk-up testing is being offered for free and without an appointment, from 8:30 a.m. to 11:30 a.m. and the following locations. Testing is only being offered to people with symptoms of COVID-19, or people who have been in contacted with other people who tested positive. Asymptomatic testing is only being offered to first responders and healthcare workers.
Monday, August 10 at the Valley Center Community Center, 314 E. Clay St., Valley Center, KS 67147
Thursday, August 13 at Pathway Church, 18800 W Kellogg Dr, Goddard, KS 67052
Tuesday, August 18 at Madison Avenue Central Park Pavilion, 512 E. Madison, Derby, KS 67037
Thursday, August 20 at the Haysville Community Center, 130 E. 2nd South, Haysville, KS 67060
The Sedgwick County Health Department lists the following symptoms as being associated with COVID.
Cough
Shortness of breath or difficulty breathing
Fever
Chills or shivering
Muscle or body aches
Headache
Sore throat
New loss of taste or smell
Diarrhea
Fatigue or feeling more tired than normal
If you have any questions about COVID-19 testing you're asked to call 211.