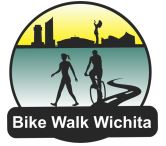 Bike Walk Wichita and the Wichita Police Department are working to make sure cyclists get lights and reflectors on their bikes.
The time change means its getting darker earlier and there is concern that not all cyclists are as visible as they should be. Kansas law requires a bike to have a front light and rear reflector if it is being ridden at night. The Kansas Department of Transportation provided grant money to Bike Walk and they're using the funds to hand out lights and reflectors to cyclists who need them. There a couple upcoming distribution events.
On Friday, November 13, lights and reflectors will be available at the Walgreens at Broadway and Murdock. This program will run from 7 p.m. to 8 p.m.
If you can't make it, you can also go to Bike Walk Wichita's ReCycle program. This runs on Thursdays from 6 p.m. to 8 p.m., and Fridays and Saturdays from 1 p.m. to 4 p.m. This is located at 131 S. Laura.
Thanks to KDOT grants, Bike Walk Wichita has distributed lights for more than 2,000 bikes since October 2016.