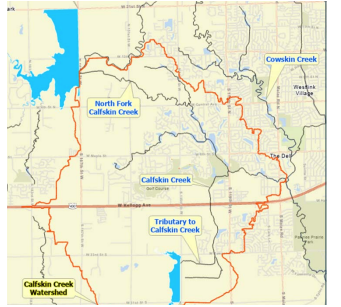 The City of Wichita and Sedgwick County are looking at a federal grant to help with projects that would dramatically reduce the flooding along the Calfskin Creek in west Wichita.
The City Council heard Tuesday from Don Henry with the city's Public Works department on a Federal Emergency Management Agency grant program that would provide $40 million toward the construction of two dry detention dams in the Calfskin Creek basin.
Henry said the city hired a consulting firm to study the flooding along the Calfskin Creek, and they found that more frequent and intense rainfall events are creating more frequent flooding issues across the area.   He said a study of options found that the construction of two dams would be the most beneficial.
Henry said the project would remove an estimated 458 acres from the floodplain and create land that could be developed.   A total of 149 structures would be removed from the floodplain, and street flooding concerns would be eliminated for 212 homes and seven streets that currently become impassable during heavy rains.
The City Council approved a letter of intent to apply for FEMA's Building Resilience in Communities program, and the letter will be submitted through the Kansas Division of Emergency Management.   Sedgwick County Commissioners will consider a similar letter of intent on Wednesday.   If the city and county are invited to apply, they will have to submit a grant application by December 31st.
Henry said the estimated cost of the project will be $40 million and the city and county would provide five million dollars each to cover the local match required for the grant.