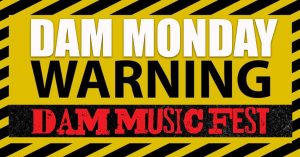 WARNING – MONDAY AHEAD! The next Dam Monday is Monday May 6, 2019.
But it's a Dam Monday so you're in good shape.
Every hour 7am – 7pm on Monday we're giving away pairs of weekend passes for Dam Music Fest!
Listen to win your way in from Country 101.3 KFDI
LINEUP ANNOUNCE: 
Chris Young, Josh Abbott Band & Stoney LaRue
Add in Justin Moore, Dustin Lynch, Randy Rogers Band, Ashley McBryde, Logan Mize & more!
Three days of music, sand and sun at El Dorado Lake, July 25-27, 2019!
Enjoy the lake and all it's amenities during the day, then enjoy top tier national artists performing under the Kansas stars.
Everything you need to know about Dam Music Fest can be found in the FEST GUIDE
BUY TICKETS HERE – all kinds of options – something for everyone!
CAMPING options
LIKE Dam Music Festival
LIKE Chris Young
LIKE Josh Abbott Band
LIKE Stoney LaRue
LIKE Justin Moore
LIKE Dustin Lynch
LIKE Ashley McBryde
LIKE Logan Mize
LIKE Randy Rogers Band