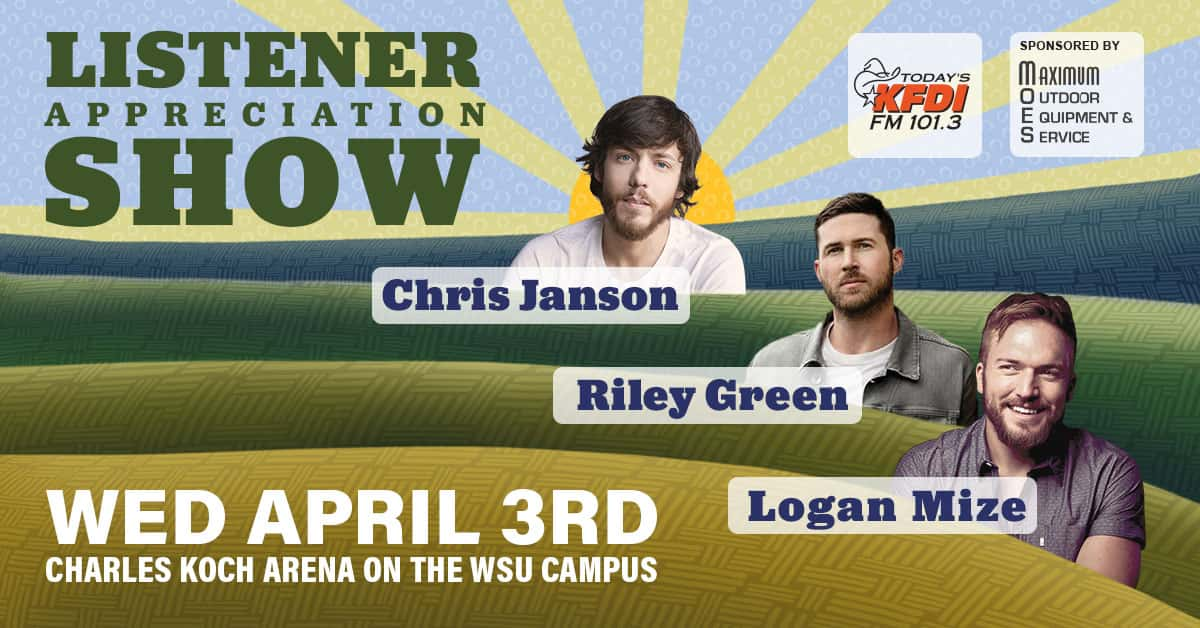 Here's where to get your FREE Listener Appreciation Show tickets. 
Although the KFDI Listener Appreciation Show is free, you MUST have a ticket for entry.  Get yours during regular business hours at the locations below.  Some businesses are not open on weekends.  
We do our best to keep this list up to date to help you find tickets easily.  High traffic locations may run out of tickets quickly.
(Updated Friday 3/29 3pm)
Maximum Outdoor  1002 S West St Kellogg & West St
Affinity Automotive 2606 W. Pawnee Wichita, KS 67213 (Pawnee & Meridian) –
B&B Lumber  1601 W 1st St, Newton, KS 67114 
B&B Lumber  10808 W MacArthur Rd, Wichita, KS 67215
Book-A-Holic 924 S. Oliver (Lincoln and Oliver in Parklane Shopping Center)  
Carbanc Auto Sales 3155 S. Broadway (Broadway & 31st Street South)
Coleman Factory Outlet Store  2414 N. Maize Rd (North of 21st on Maize Rd East Side of Street behind Logan's Roadhouse)
Crazy Jay's 1026 S Oliver St, Wichita, KS 67218
Dam Music Festival Office 7337 W 33rd St. N, Wichita (33rd St. N & Ridge Rd)
Goodwill 2117 S. Kansas Avenue Newton, Ks in Newton
Granite Transformations 1625 E. Central Ave. in Wichita
Hemp Hut  10711 W. Kellogg, Wichita, Kansas 67209
Hemp Releaf 2110 N Maize Rd Ste. 500
Horsch Trailer Sales 6901 S. 183rd Street West, Viola, KS 67149 (Southwest of Wichita at 183rd & K-42)
Mexico Viejo  6960 W 21st St, Wichita, KS 67205
Sig's Gourmet Meats  300 S Baltimore Ave, Derby, KS
Wichita American Shaman CBD 550 N. Webb Rd. Wichita, KS 67206
Wichita American Shaman CBD 327 N. Hillside Wichita, KS 67214
Hutch American Shaman CBD 2600 N. Main St in Hutchinson, KS 67502
Ticket does not guarantee admission: Much like a free movie screening, we give out more tickets than there are seats to ensure a full house. We've been doing this since 1972 and have never had to turn anyone away.  But there is always that chance.  Arrive early day of show – first come, first seated.
Back to Listener Appreciation Show Home
Show sponsored by