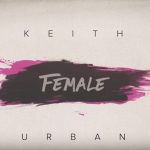 Brush strokes and splashes of color hit the screen, blend and fade away. There is something soothing and mesmerizing about the whole thing. It really drives home the beauty of the lyrics.
Keith Urban shares his just released lyric video for, "Female." Be prepared to just press play over and over as it is kind of hypnotic.
"Sister, shoulder, daughter, lover
Healer, broken halo, mother
Nature, fire, suit of armor
Sole survivor, holy water"
Keith performed the song during the CMA Awards back on November 8th. It sure looked to me like some women in the audience had tears in their eyes.
"Secret keeper, fortune teller
Virgin Mary, scarlet letter
Technicoclor, river wild
Baby girl, woman child,
Female."
The song was written by Nicolle Galyon, Shane McAnally and Ross Copperman. Nicole Kidman sings back-up on the song with Galyon.
Watch it below!