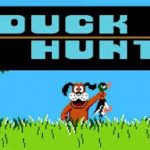 When we were younger, most of us enjoyed the classic NES game 'Duck Hunt', using the zapper to shoot down ducks into the hands of our waiting mutt. What most of us didn't know, is that Duck Hunt had the capability to be a TWO PLAYER GAME!!!
That doesn't mean that it would work with 2 zappers, because that's not how Duck Hunt works. The secret was spilled yesterday via Twitter from actor Seth Rogan.
Hot tip that's 25 years late but I didn't have Twitter back then: in Duck Hunt on Nintendo, the second player controller controlled the duck.

— Seth Rogen (@Sethrogen) September 17, 2018
Me and my sister found this out because I sat on the controller by accident and the duck kept flying to the top right corner.

— Seth Rogen (@Sethrogen) September 17, 2018
Had your mind blown yet? Read more about it and check out some reactions from people to this secret here.