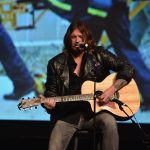 September 25th is National One Hit Wonder Day, celebrating the artists who came into our lives with a song so good, it rocketed to the top of the charts. But once that song faded in popularity, so did they, never to be heard from again. These are our favorite country one hit wonders.
1. David Lee Murphy – "Dust On The Bottle"
2. Deana Carter – "Strawberry Wine"
3. Jamey Johnson – "In Color"
4. Billy Ray Cyrus – "Achy Breaky Heart"
5. The Wreckers – "Leave The Pieces"
6. Jaron And The Long Road To Love – "Pray For You"
7. Ricochet – "Daddy's Money"
8. Chad Brock – "Yes"
9. Trailor Choir – "Rockin' The Beer Gut"
10. The Tractors – "Baby Likes To Rock It"
Did we miss any? Leave us a comment and let us know.