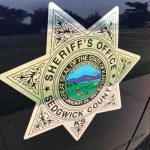 WICHITA, Kan – UPDATE: The Sedgwick County Sheriff's Office says the deputy that was arrested Wednesday for domestic violence in Bel Aire, has been arrested again.
Bel Air police arrested Raymond Paredes on a charge of a no-contact order from the domestic violence case.
——————-
A Sedgwick County sheriff's deputy was arrested early Wednesday at his home in Bel Aire after police were called to a report of a disturbance.
The arrest was made around 4 a.m. by Bel Aire police officers.  The deputy was arrested on a misdemeanor charge of domestic violence battery.   He was identified as Raymond Paredes, who has been with the sheriff's office for three years.
Sheriff's Colonel Greg Pollock said there will also be an internal investigation by the professional standards unit, which is routine for a deputy facing criminal charges.   Paredes has been placed on administrative suspension, and he won't be working on law enforcement duties until the case is resolved.
Pollock said "deputies are not above the law, and the sheriff's office will always investigate any crime with due diligence."   No other details have been released.