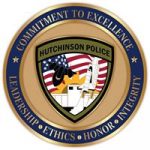 HUTCHINSON, Kan – Hutchinson's new police chief says three people have been fired, one has been suspended, another was cleared of wrongdoing, and a sixth person is still under review after an internal investigation at the police department.
Chief Jeffrey Hooper talked with reporters Wednesday about an ongoing investigation that resulted from an incident last February, when an off-duty Hutchinson officer was pulled over for erratic driving.
Captain Troy Hoover, who was also assistant police chief, was among the three who were fired.
Chief Hooper said he will be working on policy changes and everything will be based on accountability and treating people right. He said he will be putting in more command-staff level people, including an office of professional standards that will handle complaints from citizens, internal affairs, recruiting and hiring.
Hooper said the department will operate with the utmost integrity, and he said "people who cannot serve our community appropriately will not be working at the Hutchinson Police Department. " He could not release further details on the incident last February or the investigation.