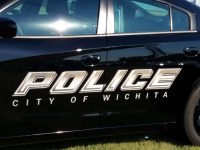 Two dogs have died in separate animal abuse cases.
Someone called 911 around 4:30 Friday afternoon after witnessing someone beat a dog with a tire iron and then sic other dogs on the wounded animal.  Police went to the 1000 block of North Poplar, and with help from animal control, were able to separate and take the attacking dogs into custody.
The wounded dog was taken to an animal hospital where it died from its injuries.  a 30-year-old woman is in jail for animal cruelty and being held on a $25,000 bond.
The second incident happened around 7:30 a.m. Sunday in the 3300 block of North Wild Rose near 29th and North Ridge Road.  A neighbor called 911 after seeing someone pick up a small white dog, slam it to the ground, and then leave in a grey Ford Edge.
Police stopped the car and arrested a 19-year-old man, who was also found to be carrying a conceal handgun.  The dog was found dead nearby.
The man is being held without bond for cruelty to animals: malicious torture or killing, and for carrying a concealed weapon.  Police say they will be presenting both cases to the district attorney's office soon.