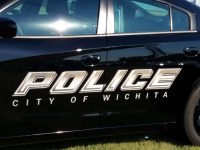 Wichita Police have a 26-year-old man in custody after two young boys got a hold of his gun and shot themselves.
Around 9:15 Tuesday morning, a woman was dropped off at St. Joseph Hospital with her boys, ages 2 and 4.  Both had gunshot wounds to their hands.
Police learned that the boys and their mother were at the home of a 26-year-old man who was a friend of the mother, in the 2200 block of South Main.  While there, the boys managed to pick up his handgun and shoot themselves.
The 26-year-old man drove the boys and their mother to the hospital and then took off.  Police went to the man's home and took him into custody.
They recovered the handgun involved inside of a car parked in the 700 block of North Minneapolis.  The man is being held at the Sedgwick County Jail for two counts of aggravated child endangerment, interference with the judicial process, possession of marijuana, and possession of paraphernalia.
The 2-year-old boy has been treated and released from the hospital and is in police protective custody.  The 4-year-old boy is still undergoing treatment.