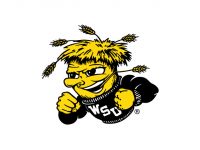 The Wichita State Shockers lost to the Temple Owls in Overtime, 85 to 81, at Charles Koch Arena, Sunday.
WSU led by 9 at half, but the Owls went on a 20 to 8 run in the 2nd half.
Markis McDuffie led the Shockers with 24 points and 7 rebounds.
WSU is now 0-2 in the American Athletic Conference and will play at #19, Houston, this coming Saturday.
The Shockers are now 7 and 7, overall.