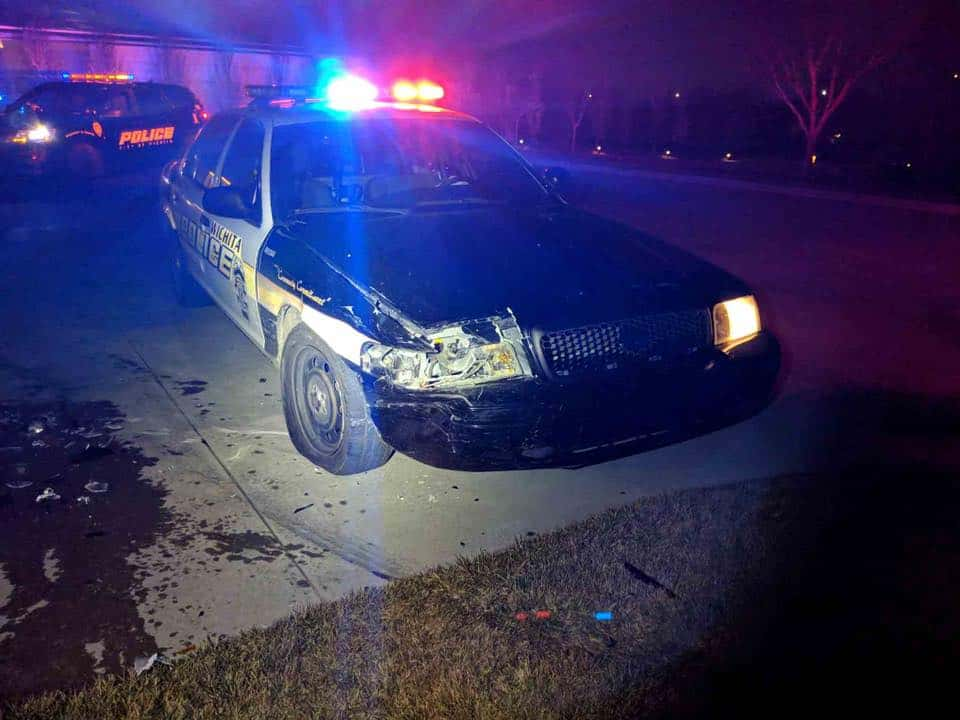 A 40-year-old man is in jail after he rammed a Wichita Police vehicle.
It happened around 7:30 p.m. Tuesday in the 2000 block of North Greenwich.  It began with the report of a suspicious character in a 2018 Mercedes Benz, but while officers were in route, they learned the driver of the car had struck a private security vehicle.
When officers arrived, they tried to contact the driver, but he rammed the security gate, and drove onto the lawn of the home, destroying property in the process.  The driver of the Mercedes circled around and drove towards police and security that had pulled unto the property on the drive, striking a Wichita Police vehicle on the front passenger side.
The officer in the car received minor injuries to his left hand and arm and is expected to be okay.  The the driver of the Mercedes stopped only after he struck a tree and the car became disabled.
He was taken into custody on charges of aggravated battery of a law enforcement officer, destruction to property, unlawful restraint, criminal trespass and possession of drug paraphernalia.   His 58-year-old passenger was also arrested due to him having two outstanding warrants.
It's unclear what the man's motive was for the crime.  KFDI News is withholding his name until he is formally charged.