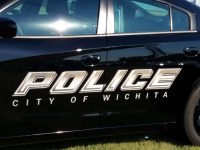 Police said a shooting that left a 9-year-old boy dead in south Wichita is considered to be accidental.
The shooting was reported around 8:30 Monday morning, at a mobile home park in the 2200 block of East MacArthur.
Officer Charley Davidson said five youngsters, ranging in age from 9 to 16, were inside a mobile home when the shooting occurred.   In a written statement, Davidson said the 9-year-old was visiting an 11-year-old friend when the two boys got into a gun safe in the bedroom of the home.   It's believed that the older boy was playing with a handgun when it went off.   The younger boy was pronounced dead at the scene.   Police have not released his name.
The investigation is continuing and a report will be presented to the Sedgwick County district attorney's office.