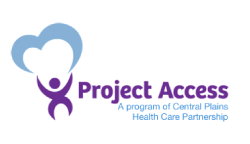 Central Plains Health Care Partnership
A program that helps low-income uninsured residents with access to health care is celebrating its 20th anniversary this year.
Project Access is a program operated by the Central Plains Health Care Partnership.   It began in 1999, and Partnership executive director Shelley Duncan said it has helped more than 14,200 patients with a total of over $200 million in donated health care services from the medical community.  The program helped 810 patients in 2018.
The program has a network that includes 635 physicians in the county who donate care, along with 14 dentists and services donated by local hospitals and clinics.
Sedgwick County commissioners have approved an allocation of $200,000 for the program this year, and Project Access also gets financial support from the city of Wichita, foundation grants and donations from various sources.
Project Access is planning a fundraising event in August, called Access The Edge, that will involve people rappelling 19 stories down the side of the New York Life building at 125 North Market.