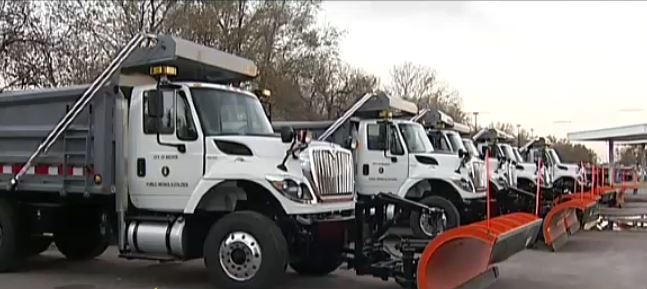 Courtesy KWCH 12
The City of Wichita Public Works and Utilities crews are preparing for the winter storm expected to hit this afternoon.
All 60 of the city's snow plows are ready to respond as snow starts to fall.  Up to 5 inches of snow is possible and it is expected to start this afternoon.
The city says drivers during afternoon rush hour could see snow covered roads and very slick conditions.  They are urging drivers to go slow and keep plenty of distance between you and the the vehicle ahead of you so you have plenty of time to stop.
Aaron Henning, Maintenance Engineer with Public Works says there is already enough salt and sand of the road that crews do not need to pre-treat.  When the snow does start, they will start laying down a salt and sand mixture again and then start plowing once there is enough accumulation.
Trucks will be working in tandem so they ask drivers to use caution and keep your distance around the trucks as they work.  Public Works urges those who do not have to be out to stay put this afternoon and evening.
You can track the snow plows progress by clicking here, or by following their Twitter.