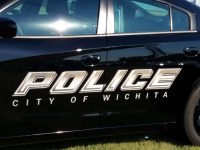 Wichita Police have arrested a 28-year-old woman for felony child abuse.
Officers were called to a home in the 1700 block of South Faulders around 2:30 Tuesday afternoon on the report of a 2-year-old child who had stopped breathing.  The girl was transported to the hospital in critical condition where it was discovered she had critical head injuries.
Police said the woman, who is the girl's stepmother, and her 27-year-old boyfriend, were awakened when the girl vomited and then stopped breathing.  The boyfriend began using life-saving techniques on the girl until EMS arrived.
The girl is in stable condition at the hospital.  Police have placed 3 other children in the home ages 4, 7, and 8 in protective custody.
The case is still under investigation and detectives will present their case to the District Attorney's Office.  KFDI News is not identifying the woman until she has been formally charged with a crime.