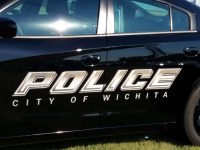 A man found shot in a car over the weekend has died from his injuries.
Wichita police say 27-year-old Hector Ortega drove to the 1100 block of South Fern around 5 a.m. Sunday. There was an argument in the street and Ortega was shot once in the head. He was rushed to a hospital and passed away Tuesday night.
Investigators are still working on this case, with no details on a suspect or motive have been released yet. Anyone who knows more about what happened is asked to call police. Anonymous information can also be left with Crime Stoppers at 316-267-2111.