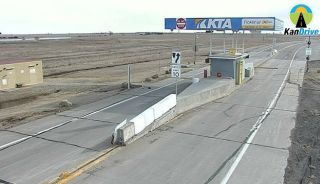 Construction season is beginning this week on the Kansas Turnpike, with a number of projects scheduled to begin March 11th if the weather cooperates.
The Kansas Turnpike Authority said in a press release that work will begin on the rehabilitation of four mainline bridges around mile marker 40 in south Wichita.  Traffic will have median crossovers with one lane traffic in each direction using the southbound bridge.
Work will also be done to re-deck and widen a bridge at mile marker 99.96, affecting traffic on the turnpike in Butler and Chase counties, and there will also be work on a bridge at mile marker 94. Those projects will also create single-lane traffic.
Another project will involve work on ten bridges in Sumner, Butler and Chase counties, and single-lane traffic will be involved with those projects.
Drivers can check for traffic impacts on www.KanDrive.org and they can also follow the Kansas Turnpike on Twitter.