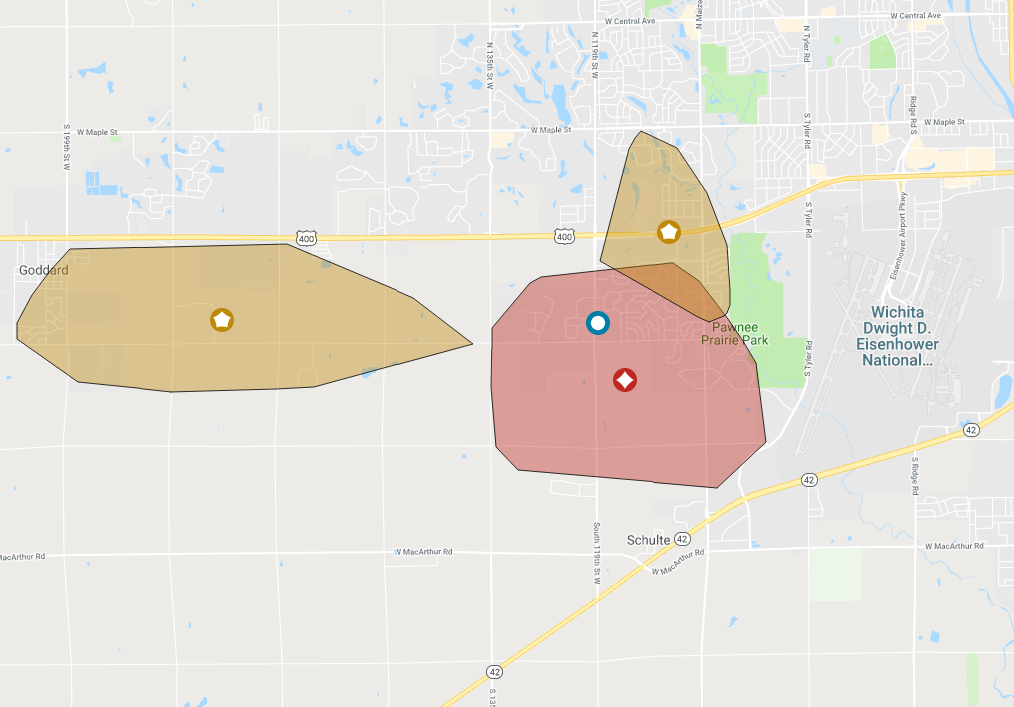 Power has been restored in West Wichita and portions of Goddard.
An issue at a substation this morning, knocked out power for about 3,600 customers around 7 a.m., according to Westar Energy.  Power was restored shortly before 11 a.m.
Previous Story:
A power outage hit west Wichita and Goddard right around the start of the school day Thursday. Around 3,600 Westar Energy customers did not have power as of 9 a.m. in a large area west of Eisenhower national airport, including some Goddard schools.
The Goddard School District sent an email to parents saying there's no electricity at Amelia Earhart Elementary, Discovery Intermediate, Goddard Middle School, Goddard High School, or Godard Academy because of an outage at a Westar substation.
So far school is still in session, and parents don't need to come get their kids or anything. But it's going to be an inconvenience for students and teachers in the last few days of school.
The outage stretched from Maple south to 31st St S, and from S Tyler Rd in Wichita west to Walnut St in Goddard.
Westar stated on its outage map that there was no estimated restoration time as of 9 a.m., but the Goddard School District stated in its email that power could be restored by 9:15 a.m.
A copy of the letter Goddard sent to parents is below:
Goddard Public Schools Families,

There is currently no electricity service to Amelia Earhart Elementary School, Discovery Intermediate School, Goddard Middle School, Goddard High School, and the Goddard Academy due to a Westar power outage at a substation. If you need to contact your child's school office immediately, please call Central Office at 316-794-4000. If your message is not urgent, please communicate with your child's school secretary by email.

The preliminary estimate from Westar to resolve the issue is approximately 9:15 a.m.

The appropriate email addresses are listed below.

Amelia Earhart Elementary School – tfrost@goddardusd.com
Discovery Intermediate School – breichenborn@goddardusd.com
Goddard Middle School – mthompson@goddardusd.com
Goddard High School – bhaas@goddardusd.com
Goddard Academy – dgoolsby@goddardusd.com

Transportation – tcraytor@goddardusd.com or 316-794-4291

Central Administration Center – mschwartz@goddardusd.com or 316-794-4000

We appreciate your cooperation and understanding. We will send you an email when the situation is resolved.

Sincerely,

Dane Baxa
Director of Community Relations
USD 265, Goddard Public Schools