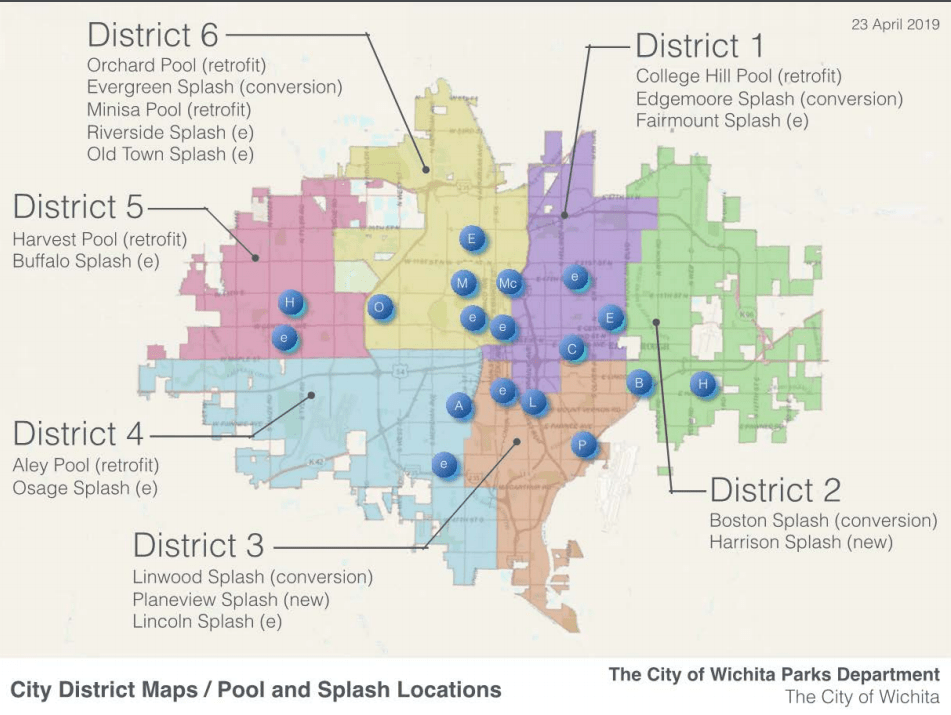 After an eight year process, the Wichita city council has voted unanimously to approve an Aquatics Master Plan that will provide for $18 million in improvements and changes for the city's public swimming pools.
The plan will make major improvements at the Aley, College Hill, Harvest, McAdams, Minisa and Orchard pools.   Splash pads will replace the pools for Boston, Edgemoor, Evergreen, Harrison, Linwood, and Planeview.
Council member Brandon Johnson called the plan "amazing," and he said it will make the city's neighborhoods even better.  Council member Bryan Frye said staff figured out a plan that will allow the pool system to operate much more efficiently, which will provide for more hours and more days of operation.
Under the master plan, the swimming pools will be open from 11 a.m. to 5 p.m. and again from 6 p.m. to 9 p.m. Monday through Friday.   The pools will be open from noon to 6 p.m. on Saturdays and Sundays.   There will be 52 open swim hours a week at each pool.   The season will also be expanded, and it will run from Memorial Day to the start of the school year, and then pools will be open weekends only until Labor Day.
Staff presented two options to the city council for shade structures, art features, landscaping and other improvements.   City manager Robert Layton said there wasn't enough funding in the budget for both options.  The council asked staff about combining the options into one proposal that would be funded with an additional $1 million, and there will be more discussions at a later meeting. Plans call for the improvements to be made at the pools in time for the 2020 swim season.