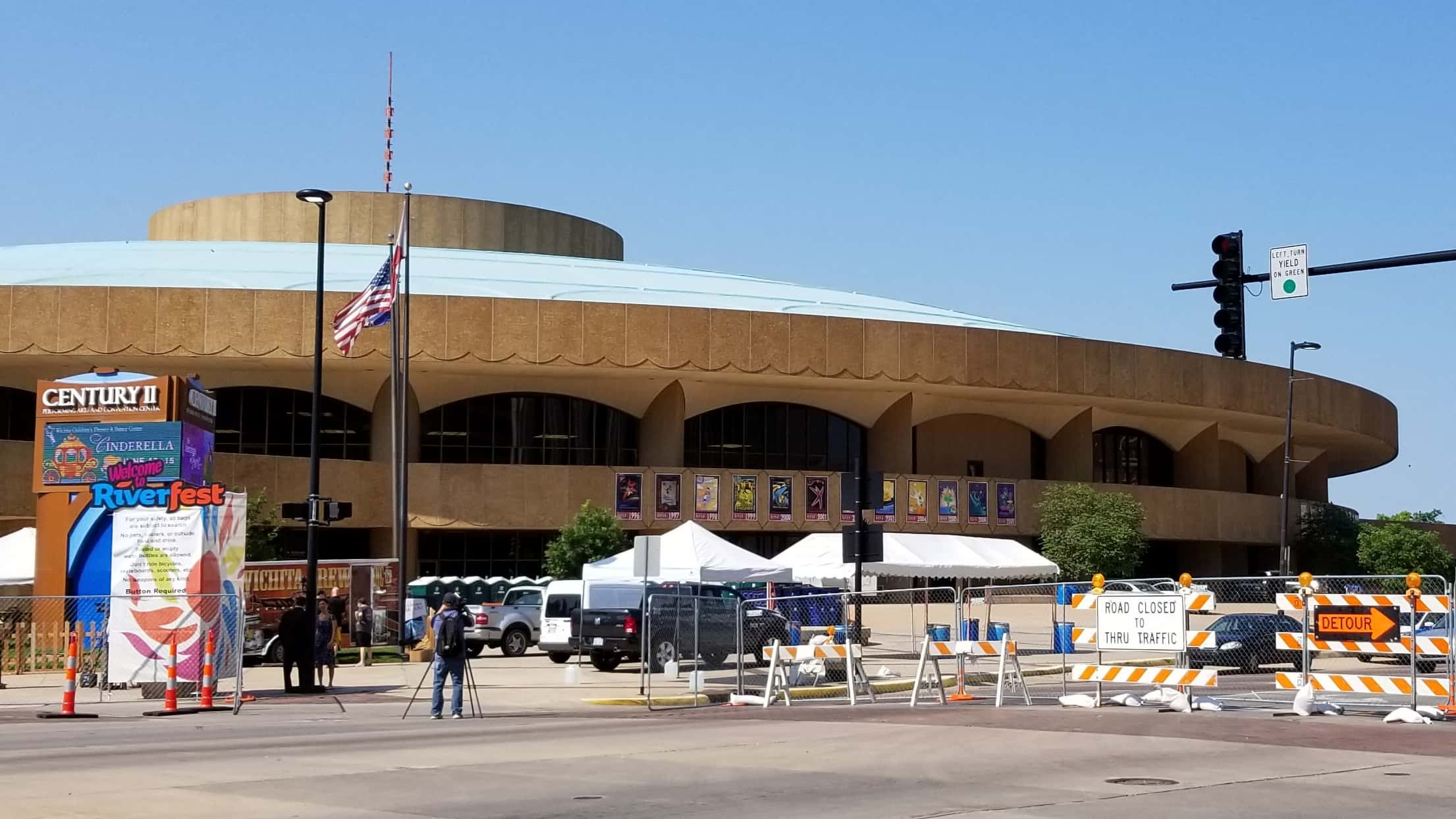 A controversy developed during the recent Riverfest in Wichita after a concert ended early.
Wichita River Festival staff ended a performance early due to weather on Wednesday, June 5, but members of the community are accusing the festival of censoring an artist. Festival management said the early end to the Talib Kweli set had nothing to do with content and everything to do with safety.
The Talib Kweli performance began Wednesday evening after a previous delay due to earlier storms, and the set ended nine minutes ahead of schedule. Wichita Festivals CEO Mary Beth Jarvis said lightning detection equipment signaled the possibility of a lightning strike, so the Festival ended the set early.
The decision to cut the Talib Kweli set early while letting an acoustic artist continue a performance on the nearby RedGuard Stage has drawn criticism from the community. While some accuse the festival of censorship, the festival says the only reason Talib Kweli's set was cut short was due to weather-related safety concerns.
"I think some folks misinterpreted that as making a choice to cut the artist off early based on the content of his performance," Jarvis told KFDI News. "It was solely a decision based on weather.
"Frankly, I was so busy focused on the sky and the lightning detectors and our weather and safety vigilance that I didn't hear a word of the concert," Jarvis said. "So, while the artist threw the vulgarity and profanity on more heavy than I might have liked, unfortunately, I didn't hear any of it in real time, and made the decision in order to keep folks safe. Which we did, we got everybody home safely."
That messaging was confused by a statement Riverfest staff posted to the Wichita Riverfest Facebook page the next day, which read, "Separate from the safety/weather issues, it's a fact that Talib used language onstage that violates our agreement with him to do a radio edits/all-ages show. Riverfest is a family event, and we ask this of every headliner on our stage. Anyone who was there could hear the f-bombs flying."
The statement continued that the show coming to an end early was unrelated to the artist's views. The statement said the Festival owes it to their audience to "keep them safe if the weather is scary" and to give "some assurance that our concerts will be family friendly."
That mixed messaging has contributed to questions from people who performed in the festival on whether the artist's vulgar and political language contributed to the show ending early.
One of those performers, Beau Harris of the band Old News, decided to make a statement during his band's set the following day, June 6. Harris said that statement led a technician to start unplugging the band's equipment before their final song.
"When we saw that Riverfest came out to say that it was weather-related, yet they allowed a country artist to play the rest of his set literally a thousand feet away, we decided to escalate the situation to try to call their bluff on censoring that artist," Harris said.
"Our idea was to, in my case specifically, was to turn around and do the same thing that Talib Kweli did to be removed from the stage," Harris said. "We brought signs on stage with the same statement that the artist made. After our microphones were cut, we started a very similar chant to his."
That chant was the phrase, "F— Trump."
"In response, we were removed from the stage," Harris said.
Harris said his set did not necessarily end early, but it did end before the band's final song on the set list.
"Before our last song, I decided to take a moment to try to give a small speech on the subject," Harris said. "That way, we could have, hopefully, a productive dialog, instead of going down to the least common denominator."
Harris said that's when his microphone was cut, and that's when he began the chant.
KFDI News asked Harris what changes he hopes his actions will lead to.
"I think the picking and choosing of artistic censorship and political censorship through art is unacceptable," Harris said. "When you have artists, for years and years, that are able to freely use explicit words on stage with next to zero issue, and then one who is silenced for putting one within spitting distance of the President's name, I see a real problem with that.
"So, what I'm hoping, and what I would like to see happen, is either we come to a consensus on what is acceptable content at Riverfest, and they lay that out so it's not murky and pick-and-choosing. Or, they come out and tell the truth of that situation," Harris said.
Jarvis said Wichita Festivals does not have a history of ending a performance early due to content.
"Every other act of the festival, beyond that Wednesday night, has played their full set and gone on," Jarvis said. "We're not in the business of, and have never in my knowledge, cut an artist off for content. That's not what we're about.
"But, boy, when safety is a primary concern, like it was Wednesday night, we're gonna make the decisions that we've got to make, and clearly, not everybody will be happy with those."
Jarvis said the festival staff kept a close eye on storms, and she elaborated on why the Talib Kweli set ended ahead of schedule while the artist on the RedGuard Stage was allowed to continue performing.
"Our stage and sound provider, who does this all over the country, uses lightning detectors on both of the stages," Jarvis said. "That data helps us get information as well. When the north stage's lightning detectors started popping Wednesday night, we didn't have quite the same indicators down south. And we also had a much smaller act. It was just an acoustic guy on the stage down south.
"So, up north, we just, out of abundance of caution, wanted to get that artist and all of that equipment off the stage and get people home safely."
Wichita Festivals posted the following on June 6:
Dear Talib Kweli Fans:

We know you're concerned about the abrupt end to last night's show.

There's more to the story and I hope you'll hear us out. Please read it all.

To catch you up, We'd been on storm delay since 7:50 and really wanted to get both headliners on stage. Making sure people are safe from things like lightning is #1. I know you get that.
By 9:15 it looked like we had about an hour's window to get Talib and Jerrod onstage.
There are lightning indicators on both stages, and the one on the Acura stage on Kennedy Plaza went off at 10 p.m. (It is a larger stage.)

Jerrod Niemann was acoustic on the RedGuard stage. The indicator did not go off, so they played until they needed to shut down, another ten minutes.
We're amazed that under the circumstances, we got any of the headliners on last night. We are truly sorry to disappoint some fans. We love both of these artists, too.
The reality is, we worked really hard to get the headliners on at all, and we appreciate people's understanding that we were dodging tough storms all evening.

Separate from the safety/weather issues, it's a fact that Talib used language onstage that violates our agreement with him to do a radio edits/all-ages show. Riverfest is a family event, and we ask this of every headliner on our stage. Anyone who was there could hear the f-bombs flying.

What this DOES NOT have to do with is Talib's viewpoint as an artist. Riverfest has hosted ALL KINDS of artists with diverse and/or outspoken viewpoints, including Common, Cypress Hill, Joan Jett, The Roots and Randy Newman … the list goes on and on. Talib's politics is totally his business, but we owe it to our audience to a) keep them safe if the weather is scary and b) some assurance that our concerts will be family-friendly. We are a not-for-profit, 501©3 after all.

We really are sad that Talib's show was cut short.
And we are grateful you hung out with us in the rain.
Thank you for hearing our viewpoint.
Old News posted the following video and comment. LANGUAGE WARNING:
Thanks to the Wichita River Festival sound guy for cutting our set after Anti-Trump statements, cursing at us on the stage, and damaging our equipment while roughly/forcibly removing gear from the stage.

As a note, we NEVER signed a performance contract stating we would not use profanity or political statements in our set; we didn't when we performed on the Kennedy Plaza stage last year either. Countless acts have been allowed to perform at Riverfest with profanity, it was only shut down when the word "f—" was within spitting distance of the word "Trump".

Our set was not cut short due to time constraints or "because our set ran long". Our set was not cut short due to weather (like they claimed for Talib Kweli). Our set was cut short because we had something to say.

Don't stand for censorship. Don't stand for bigotry. Thank you for coming out and standing with us last night.