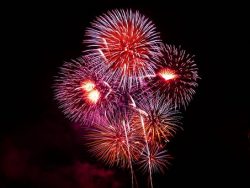 It's that time of year once again. Time to celebrate America's birthday so here is a list of what is going on around the ICT for the 4th.
El Dorado Independence Day Celebration: July 3rd and 4th
Ain't no party like an El Dorado party for the 4th. El Dorado kicks off their 4th festivities on Wednesday night with a wiffle ball tournament. Then things kick off at 9AM on the 4th with games and activities, a free hot dog lunch, and fireworks after a Broncos baseball game. Check out their website for more details.
Park City Salute to Freedom: July 3rd and 4th
Not to be outdone by El Dorado, Park City is also doing a 2-day 4th of July. Things kick off Wednesday night with a movie in the park. Activities on the 4th kick off at 9AM with a parade, then things move to the park for a day of fun including face painting, water activities and a car show, before fireworks launch at 10AM. Get more information on their website.
Veterans Memorial Park Independence Day Program: July 4th
Representative Ron Estes will be among the speakers at this event that kicks off at 10AM. LPT: Bring a lawn chair
Augusta Fireworks: July 4th
A  fireworks display is at dusk on July 4 at Augusta City Lake. Entry is free.
Derby 4th of July Celebration: July 4th
The Firecracker Run starts the day's fun at 7:30. The parade starts at 10 at Panther Stadium and then festivities continue at High Park at 7PM with food trucks and activities before the fireworks show at 9:30. For a full schedule of the events in Derby, you can check their website.
Red, White & Boom!: July 4th
THIS is the big one. The City of Wichita's 4th of July celebration begins at 5PM with food trucks, beer garden and a concert. Fireworks then start at 9:50. See what else they have planned by checking their website.
Mulvane Independence Day Fun: July 4th
The community of Mulvane offers a parade at 11:30 a.m. and ice cream social at Cobb Park.
Haysville Fourth of July Celebration: July 4th
A full day of fun begins at 8AM with their 4th of July parade. Other events include fishing derby, car show from 10 AM to 2 PM, frog races and an inflatable obstacle course for ages 3 to 13. Fireworks begin at 9:45. There's lots more activities planned and you can see them all on their Facebook page.
Goddard Independence Day Celebration: July 5th
Enjoy live music, free hot dogs, watermelon, and ice cream while it lasts, starting at 7 PM. They'll also have live music. The fireworks show begins around 10 p.m., and be sure to bring blankets and lawn chairs. You can find more info on their website.