In today's Country Music Minute it's all about Carrie Underwood.  Today is a big day, the CMA Award Nominees are out.
#CMAawards nominees will be revealed TOMORROW w/ select categories announced live on @GMA by @JimmieAllen & @AshleyMcBryde in the 8:00AM hour (local time). Then, @MorganWallen & @MidlandOfficial will announce the remaining noms via @Billboard livestream on Twitter and YouTube. pic.twitter.com/3SjCwpGACH

— CMA Country Music (@CountryMusic) August 27, 2019
Ashley McBryde and Jimmie Allen announce those on GMA. If you haven't heard, Carrie is hosting this year's award show but NOT with Brad Paisley.  This year she is sharing the stage with Dolly Parton and Reba McEntire. That's going to be pretty special.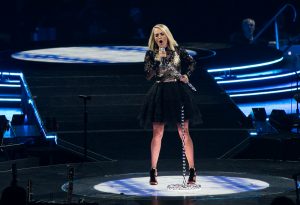 According to some insiders, Carrie is also is a favorite for Entertainer of the Year.   However, before she does any of that, she has a show to do here in Wichita and she talks about how much she LOVES performing in the round.