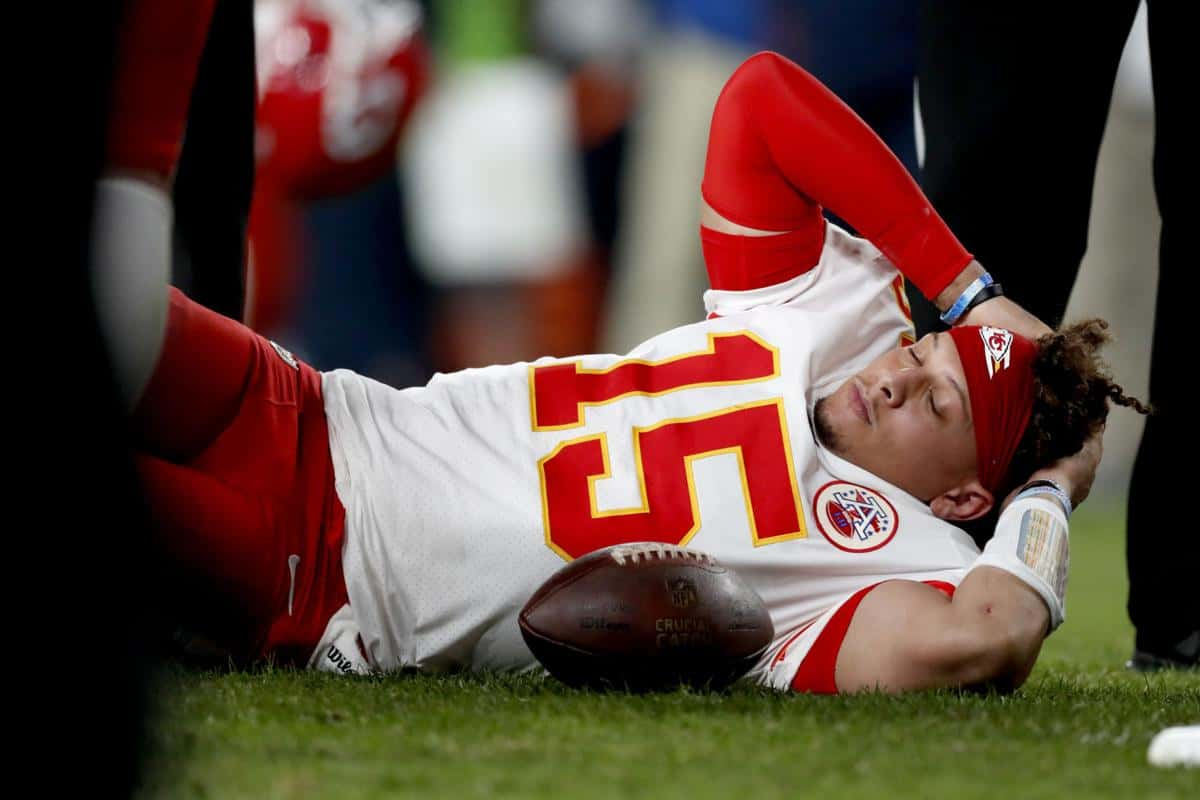 Are you a superstitious person?  Do you avoid cracks in the sidewalk?  Don't walk under ladders?  Broken mirrors and black cats freak you out?  Do you believe in curses?  Regarding the latter, I'm going to present evidence that the "Madden Curse" is alive and well.   Basically, if you are featured on the cover of the Madden video game, you run a pretty good chance of getting injured in that season or having a statistically bad year.  Now, Chiefs fans, it looks like your boy Mahomes, could be the latest victim. Here's the evidence from a new CBS Sports article.
2000: John Madden, Detroit Lions RB Barry Sanders
Sanders is one of the greatest running backs to play the game, but his abrupt, unexpected and controversial retirement came in July 1999, meaning he never set foot on the field after landing on "Madden." His departure was so shocking that EA used the Green Bay Packers' Dorsey Levens for the cover of an alternative and European version of the game.
Verdict: Cursed
2001: Tennessee Titans RB Eddie George
George went on to rush for more than 1,500 yards in his cover season, but he also lost a career-high number of fumbles, coughed up the ball in the Titans' season-ending playoff game and never averaged more than 3.4 yards per carry for the rest of his career.
Verdict: Cursed
2002: Minnesota Vikings QB Daunte Culpepper
After throwing 33 touchdowns and going 11-5 as a first-time starter in 2000, Culpepper took a nosedive during his cover season. Injuries wiped out six games, he fumbled 16 times, threw just 14 TDs compared to 13 picks and went 4-7 in his starts.
Verdict: Cursed
2003: St. Louis Rams RB Marshall Faulk
The Hall of Famer entered his cover season having logged five straight 1,000-yard seasons and three straight 1,300-yard campaigns. But in 2002, Faulk broke down, missing almost a half-dozen starts and never topping 1,000 yards again.
Verdict: Cursed
2004: Atlanta Falcons QB Michael Vick
In the game, Vick was unstoppable thanks to his unmatched speed. On the field, despite exploding onto the scene as a No. 1 pick, a fractured fibula less than a week after the game's release sidelined him for all but five games. Four years later, he was in jail.
Verdict: Cursed
2005: Baltimore Ravens LB Ray Lewis
His interception total dropped from six to zero in 2004, his cover year, and the Ravens also missed the playoffs. But that's nitpicking. He still logged 147 tackles. If we were talking about the next year, there might be a case, as he missed 10 games.
Verdict: Not cursed
2006: Philadelphia Eagles QB Donovan McNabb
McNabb hit his peak in 2004, throwing 31 touchdowns and leading the Eagles to Super Bowl XXXIX. But 2005 was rock bottom. He scuffled with Terrell Owens and missed almost half of a 6-10 season. He went on to miss eight games over the next two years, too.
Verdict: Cursed
2007: Seattle Seahawks RB Shaun Alexander
Like Faulk, he entered his cover year with five straight 1,000-yard seasons under his belt. And his dominance also came to a halt. In 2006, his rushing total dropped from 1,880 to 896, and two years later, he was out of the NFL, a Washington Redskins washout.
Verdict: Cursed
2008: Tennessee Titans QB Vince Young
He was Offensive Rookie of the Year in 2006. For his cover year, though, Young threw just nine touchdowns compared to 17 interceptions, missed a game and earned a seat on the bench for 2008, never fully regaining Jeff Fisher's trust.
Verdict: Cursed
2009: Green Bay Packers/New York Jets QB Brett Favre
EA began by making Favre the cover athlete as a tribute to his Packers career, which had just ended. But then Favre forced his way out and into New York. All he did there was throw an NFL-high 22 INTs and hurt his shoulder before moving to Minnesota.
Verdict: Cursed
2010: Arizona Cardinals WR Larry Fitzgerald, Pittsburgh Steelers SS Troy Polamalu
Fitz had one of his standard Pro Bowl seasons with more than 1,000 yards, but Polamalu missed a career-high 11 games in 2009 thanks to an MCL injury, recording a career-low 20 tackles before sticking to the sidelines.
Verdict: Half-cursed
2011: New Orleans Saints QB Drew Brees
Throwing 33 TDs and earning another Pro Bowl selection is good stuff, but Brees had what constitutes as an off year the season he graced the cover, throwing a career-high and franchise-record 22 picks. His Saints also lost to the 7-9 Seahawks in the playoffs.
Verdict: Cursed
2012: Cleveland Browns RB Peyton Hillis
You forgot about him, didn't you? Hillis grunted his way to 1,000 yards as a surprise lead back in 2010, but during his cover year, he missed a half-dozen games with an injury, averaged just 3.6 yards per carry and ran his way into a journeyman backup career.
Verdict: Cursed
2013: Detroit Lions WR Calvin Johnson
If anyone broke the curse, it was Johnson, who had both a career and historic season the year he was on the cover. Although, like Barry Sanders before him, he retired relatively early a few years later, 2012 saw him post a whopping 1,964 receiving yards.
Verdict: Not cursed
2014: Minnesota Vikings RB Adrian Peterson
If Johnson shattered the curse, Peterson may have reignited it in 2013. Fresh off his sixth 1,000-yard season and two years removed from a historic 2,000-yard campaign, he missed all but one game after being indicted on child abuse charges.
Verdict: Cursed
2015: Seattle Seahawks CB Richard Sherman
His interception total dropped, and his Seahawks failed to repeat as Super Bowl champions, but otherwise, Sherman was still at the top of his game during his cover year. It was only after the season he had to undergo Tommy John surgery.
Verdict: Not cursed
2016: New York Giants WR Odell Beckham Jr.
There's a case to be made that 2015, Beckham's cover year, is when the flamboyant WR really started rubbing people the wrong way, especially with a one-game suspension for his fight with Josh Norman. But he still dominated on the field with 1,400 yards.
Verdict: Not cursed
2017: New England Patriots TE Rob Gronkowski
The five-time Pro Bowler was coming off another double-digit touchdown season in 2016, but he missed virtually all of the Patriots' first four games with a hamstring injury, then finished with just six starts due to a herniated disk and other injury issues. Gronk started in only six games in the season after he graced the Madden cover.  EA Sports
Verdict: Cursed
2018: New England Patriots QB Tom Brady
With a chance to win a sixth Lombardi Trophy, Brady was bested by Eagles backup Nick Foles in Super Bowl LII. But he still threw for more than 500 yards in that game after winning yet another MVP award — all at age 40. He's immune to the curse.
Verdict: Not cursed
2019:  Kansas City Chiefs QB Patrick Mahomes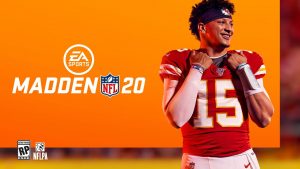 And now…..in 2019, Patrick Mahomes on the cover, he's been battling a nagging left ankle injury and last night suffered what looked like a scary knee injury (we'll know more after the MRI today).  Add to that the fact that he is not having the statistical type year everyone expected and now has been put on the back burner of the MVP discussion by the likes of Russell Wilson of Seattle.
Curse or no curse….you decide.